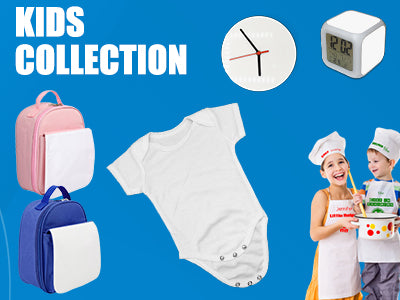 Welcome to our Kids Sublimation Blanks Collection at INNOSUB USA! Discover a world of creativity and fun with our specially curated selection of sublimation products designed for kids. From adorable t-shirts and onesies to playful backpacks and lunchboxes, our Kids Collection offers a wide range of high-quality sublimation blanks that are perfect for personalization. Let your imagination run wild as you create custom designs featuring their favorite characters, colors, and themes. Our durable and vibrant sublimation blanks ensure that your creations withstand the active lifestyles of little ones. Whether you're crafting unique gifts or adding a personal touch to their everyday essentials, our Kids Sublimation Blanks Collection provides endless opportunities for joyful expression. Explore the collection today and bring smiles to the faces of your little ones with personalized sublimation creations they'll treasure.
INNOSUB offers the highest quality cell phone and technology accessories for your sublimation printing business.  From iPhone to Samsung Galaxy, we have a phone accessory to fit your every need!  Your business can rest assured that you are offering quality iPhone and tech DIY printing blanks with every purchase!
Why sublimation blanks for kids?
Sublimation blanks for kids are a great way to create custom apparel for children. These blanks allow you to print your design on the blank and then heat-transfer it onto the fabric. This process is popular because it does not use any ink or dyes and you can create any design that you want.

Kids' sublimation blanks are a great way for kids to express themselves and have a little fun. These blanks are available in many different colors and styles, so there is something for everyone. Kids' sublimation blanks can be used as a blank canvas for kids to create their own designs or they can be used to create custom shirts with their favorite characters.

Sublimation blanks are an excellent way to promote your business and get the word out about your brand. Children are a very important demographic and they will be more likely to remember your business when they see it on their clothes.

The best part of sublimation blanks for kids is that you can design them yourself. You can use any design that you want and make it as original as possible. This will help in making sure that the children will look at the design and think, "Wow, this is so cool!"

Ideas for sublimation blanks for kids

There are many ways that you can customize your sublimation blanks for kids. You can use a photo or a drawing of your child on the blank, or you could even use their name in a creative way.

Some other ideas for customization include:

- Use your child's favorite colors on the blank

- Add their favorite animal on the blank

- Create a design that is unique to them

FAQ
What are your shipping details?
We ship from LA
We offer free shipping on domestic orders over $149 (Excluding Po Box)
Orders are shipped Monday-Friday and take 3-5 business days, 1-2 days in California.
Internationally shipping rates vary by weight, delivery time 7-14 business days.
We also offer local pickup after the order is placed online.

Do you sell wholesale?
Yes, our site offers wholesale rates on a majority of products. Check the product listing for discount chart

Need product templates
Here is the link - https://innosub.com/pages/pdf-template

Need press settings
You can find them here https://innosubusa-catalog.com/
Payment
We accept all major credit/debit cards, PayPal.